Tchaikovsky's Ear
Date: Sunday 18th June 2017
Time: 2.30pm
Venue: Preston City Hall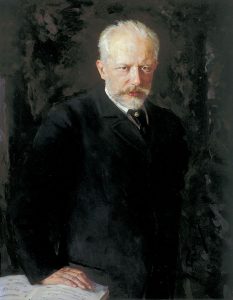 Tchaikovsky's music is popular throughout the world but it didn't spring from a vacuum. In this concert, the orchestra will play works by composers who influenced Tchaikovsky: Mendelssohn, Liadov and Raff – as well as Tchaikovsky's second symphony, the 'Little Russian'.
Conductor: Robert Dora
Mendelssohn Ruy Blas overture
Liadov Enchanted Lake
Joachim Raff Cavatina for solo violin & strings; soloist Suresh Brady
Mozart Eine Kleine Nachtmusik (1st movt)
Tchaikovsky Symphony No 2, 'Little Russian'
---
---
Mendelssohn – Ruy Blas overture
Felix Mendelssohn (1809 – 47) 
Ruy Blas overture, Op. 95
Mendelssohn was a German musical prodigy and composer of Romantic music. A composer of symphonies, concerti, oratorios, piano and chamber music, he also wrote a number of orchestral works for the theatre. The "Ruy Blas" overture was written in 1839 for a performance of Victor Hugo's play- the occasion was a benefit for the Leipzig Theatre Pension. The play is a mix of blood and love whose emotionalism is well portrayed in Mendelssohn's overture. It is known that Tchaikovsky was interested in Mendelssohn's music, although he could be also be critical of it – in particular he commented on its dangerous 'seductiveness'.
Lyadov – The Enchanted Lake
Anatoli Lyadov (1855 – 1914)
Le Lac enchanté (Enchanted Lake), Op. 62
Lyadov was a Russian composer, pianist and conductor, born into a family of musicians, actors and ballet dancers. Lyadov is sometimes characterised as having been too fond of parties to ever complete a full-scale work and his reputation rests on a small number of tone poems, often based on Russian subjects. Tchaikovsky met him in November 1887 and became a frequent visitor to his house. The Enchanted Lake was written near the end of Lyadov's life and he called it the favourite of his compositions – 'a marvel of mystical serenity'.
Raff – Cavatina for violin and strings
Joachim Raff (1822 – 1882)
Cavatina (from 6 Morceaux, Op. 85)
Arr. Francis Salabert for Solo Violin and Strings
Solo Violinist: Suresh Brady
Joachim Raff was born in Switzerland and largely self-taught as a composer. He sent some compositions to Mendelssohn who helped to have them published; he went on to become a prolific composer and very well known in his lifetime. Tchaikovsky reviewed a concert of music by Raff in 1871 and held his orchestration skills in high regard. Though there is no documented inspiration for Tchaikovsky's composition style from Raff's compositions, there are striking musical similarities between some of Raff's Symphonies and those later composed by Tchaikovsky. The Cavatina is Raff's most popular work.
Suresh Brady has been Concertmaster of the Preston Symphony Orchestra since 1997. A highly qualified player, from 1992-1999 he was a member of the Chamber Strings of Melbourne as 1st violinist and soloist; this included taking first prize at the Vienna International Youth Chamber Music Competition in 1998.
Mozart – Eine Kleine Nachtmusik
(1st movement, arranged for full orchestra)
Wolfgang Amadeus Mozart (1756 – 1791)
Eine kleine Nachtmusik, K.525 – I. Allegro
Arr. Jane Vivienne Thomas for Full Orchestra
Mozart was an extraordinarily gifted composer, with Tchaikovsky amongst his many admirers. He is known for his operas, concertos, symphonies and chamber music. Eine Kleine Nachtmusik, 'a little night music', is the Serenade No 13 for strings. Composed in 1787 while Mozart worked on the opera Don Giovanni, it is not clear whether it was commissioned or by whom.
Tchaikovsky – Symphony No. 2  ('Little Russian')
Pyotr Tchaikovsky (1840 – 1893)
Symphony No. 2 in C minor ("Little Russian"), Op. 17
Tchaikovsky is a Russian composer of the late-Romantic period whose works are widely played today. The Symphony no 2 was composed in 1872 during his summer holidays. It has been described as one of Tchaikovsky's 'most joyful compositions' and was immediately successful. It has the nickname 'Little Russian' because Tchaikovsky used three Ukrainian folksongs in the work and Ukraine at the time was often called 'Little Russia'. The first folk song, 'Down by Mother Volga', is played in the opening of the first movement by a solo horn; the second movement was originally a bridal march and features the folk song 'Spin, Oh my Spinner'. After the short playful third movement, the finale quotes the folk song 'The Crane'.