A Night at the Opera
In the final concert for the year, the orchestra enters the world of opera. Joined by two solo singers and the KeyTones Choir, the programme includes a selection of arias and choruses, plus the fiery Carmen Suite and Beethoven's energetic Fidelio overture.
Date: Sunday 26th November 2017
Time: 2.30pm
Venue: Preston City Hall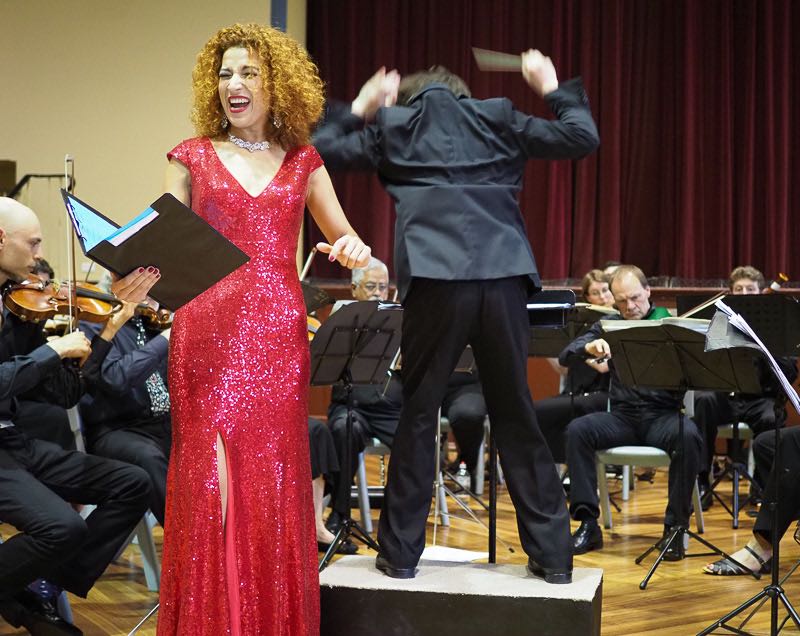 ---
The Music
Beethoven
Fidelio overture
Bizet
Carmen Suite no 2
Rada Tochalna, soprano
Mozart
Il Mio Tesoro aria from Don Giovanni
Portrait aria 'Dies Bildnis ist bezaubernd schon' from Magic Flute
Timothy Daly, tenor
Papageno/Papagena duet from Magic Flute
Timothy Daly, tenor & Rada Tochalna, soprano
Puccini
Mimi aria 'Mi Chiamano Mimi' from la Boheme
Rada Tochalna, soprano
Dreyfus
Eve's Aria from the opera Garni Sands (Australian work)
Rada Tochalna, soprano
Donizetti
'Una furtiva lagrima' aria, from The Elixir of Love
Timothy Daly, tenor
Verdi
Hebrew slaves chorus from Nabucco, and Anvil chorus from Il Trovatore
The Keytones choir, from Fitzroy
---
The KeyTones Choir
The KeyTones Choir is a dynamic community choir based in Fitzroy with a diverse repertoire. The choir began life as The Nurses Choir of Victoria in 1997 but now numbers around 45 choristers from a wide variety of backgrounds and professions. The KeyTones Choir is a non-auditioned group led by a professional musical director and accompanist. The choir strives for an increasing level of excellence in performance but its emphasis is equally on having fun singing in a group. The choir is currently keen to recruit more men. For further information, visit http://www.keytoneschoir.com/
---
The Soloists
Melbourne based soprano, Rada Tochalna was born in Sevastopol where she began her musical career as a pianist. Rada graduated with Honours from the Music Academy in Lviv (Ukraine), and later graduated with a Bachelor of Economics. Then she undertook her Master degree of Arts in Music Performance at the Zurich University of the Arts with world-renowned mezzo-soprano Cornelia Kallisch, where she received honours.
Rada has appeared in numerous operatic roles, including Caroline, Constance, Amor, Fairy Godmother, Foreign Woman and First Lady in Melbourne during 2014. In 2016 Rada sang the role of Micaela for the BK Opera in Melbourne. 
In 2014 she was the recipient of the Henkell Family Young Artist Fellowship at The Opera Studio Melbourne, and the Alice Amy McDonald Trust Travelling Fellowship. She took part in the Nagambie Lakes Opera Festival in 2015.
Rada is a regular soloist with the Melbourne Classic Orchestra. She has been a guest soloist at the Spring Street Beat at Parliament House and the Melbourne East Arts Festival. Last year she sung at the esteemed Wesley Music Centre in Canberra.
---
Timothy is a well-rounded musician having completed a double degree in Music and Education (secondary) in 2011 at Monash University going on to complete an Honours degree in music the following year.
Having finished university studies, he is now enjoying being a part of the Opera Scholars Australia program where he was named as a top three finalist for Opera Scholar of the Year in 2014/15.

Last year, he sang a leading role for Shoestring Opera in Offenbach's Le 66 for the Melbourne International Comedy Festival. He also played multiple character's in Lyric Opera's production of Our Man in Havana by Australian composer Malcolm Williamson.


Timothy has been a soloist for many oratorios with Monash Chorale including Bach's Magnificat, Handel's Messiah, Saint-Saëns' Christmas Oratorio and Schubert's 2nd Mass in G. He has sung the role of Count Almaviva in Rossini's The Barber of Seville with Cordelia's Potted Opera. He has also been a chorus member for Melbourne Opera since 2012 and has loved being a part of their acclaimed productions of Fidelio, La Traviata, Rienzi, Madama Butterfly, Les pêcheurs de perles, Maria Stuarda, Tannhäuser and Anna Bolena.