Wilkie Prize Youth Concerto Competition
Conductor: Robert Dora
Compère: Loretto Perkins
Adjudicator: Zoe Knighton
The 31st annual Preston Symphony Orchestra Youth Concerto Competition, where six amazing young musicians each played a movement from a concerto, took place on 9th September at Northcote Town Hall.
This year we were delighted to have Loretto Perkins as compère and Zoe Knighton as the competition adjudicator to select the overall winner, who received the Wilkie Prize of $500 which was awarded by the Mayor of Darebin, Kim Le Cerf.
As well as the overall winner's prize, there was an Audience Prize, chosen by ballot at the end of the concert.
The overall winner was Grace Wu, who played the 1st movement of the Mendelssohn Violin Concerto, Op. 64. Grace also won the audience prize.
---
The finalists of the 2018 Youth Concerto Competiton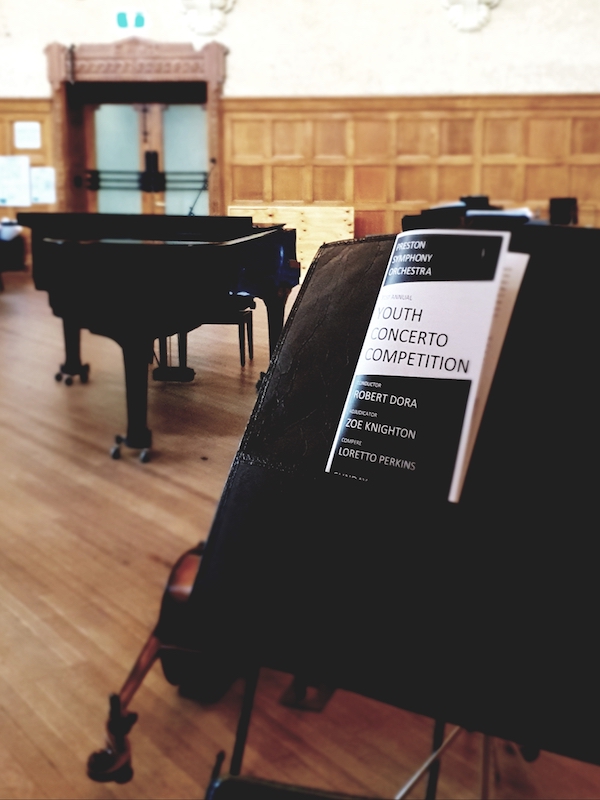 Grace Wu
Winner of the Wilkie Prize
Winner of the Audience Prize
Violin
Mendelssohn Violin Concerto Op. 64, 1st movement.
Maggie Zhao
Piano
Shostakovich Piano Concerto No.1, 4th movement.
Henry Say
Cello
Saint Saens Cello Concerto in A Minor, 1st & 2nd movement.
Anna Gao
Piano
Grieg Piano Concerto Op. 16 in A minor, 1st movement.
Ji Woo Yoon
Cello
Dvořák Cello Concerto in B minor, 1st movement.
Dandan (Jingfei) Wang
Violin
Bruch Violin Concerto No.1, 2nd & 3rd movement.
---
More about the finalists of the 31st Preston Symphony Orchestra Youth Concerto Competition:
Maggie Zhao – Piano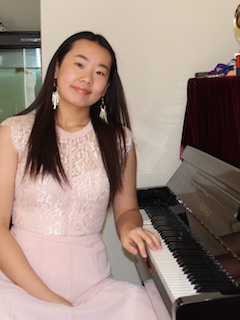 Maggie Zhao is 16 years old and first began learning piano at the age of 3. At the age of 7, she was awarded first prize at the 4th international music competition held in GuangZhou. By the time she was 11, she was awarded the June Pascoe Music scholarship to Westbourne Grammar School where she also began learning the cello.
When she was 12, she had opportunity to perform in La Madeliene in Paris. She now studies piano with Adam Cook and hopes to pursue her piano career in the future.
Henry Say – Cello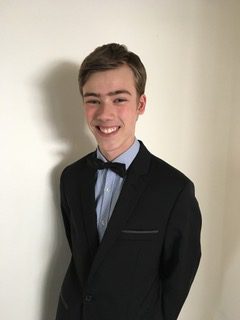 Henry Say, now 15, has been learning Cello since he was 5 and is currently under the tutelage of Josephine Vains. He attends the Victorian College of the Arts Secondary School where he enjoys the opportunity to participate in numerous chamber groups, orchestras and choirs. He is also a member of the Melbourne String Ensemble, which recently toured Europe performing in Switzerland and Germany.
Whilst overseas Henry played for Wen-Sinn Yang and Johannes Goritzki. His MSE chamber groups have won first prizes at the Boroondara Eisteddfod three years running. Henry performed a Vivaldi Cello Concerto with the MSE and Saint Saens "The Swan" with VCASS junior orchestra in 2017. He received an Encouragement award at the 2017 MRC Bach Competition, and is a finalist again in that competition for 2018.
Grace Wu – Violin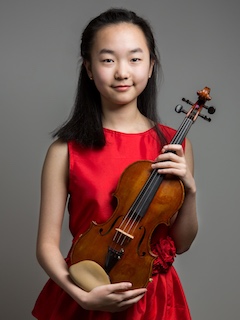 Grace Wu was born in Brisbane in 2004 and began the violin when she was six years old. She currently studies with Dr Robin Wilson at the Australian National Academy of Music in Melbourne. Grace was the winner of the 2017 Melbourne Recital Centre Bach Competition, and was a semifinalist in the 2017 HKIVS – Shlomo Mintz International Violin Competition. Grace received 3rd Prize as the youngest competitor in 3MBS Fine Music Melbourne's Live Performance Competition 'The Talent' open nationally across all instruments.
Grace has performed as guest soloist in Elisabeth Murdoch Hall during the 2017 Great Romantics Competition, the 3MBS Bach Marathon 2018, and the Genius of J.S. Bach 2018. She was also a member of the Australian Chamber Orchestra Academy in 2016 and 2017. She has participated in a master class with Pinchas Zukerman and performs regularly at the Musical Society of Victoria.
Anna Gao – Piano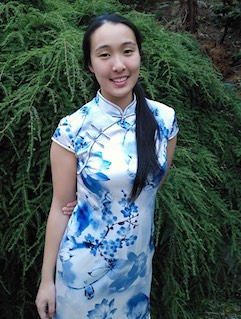 Anna began studying piano at the age of 9 under the tutelage of teacher, Fu Ying, her interest in music growing from a childhood obsession for playing along to Tchaikovsky's 'Swan Lake'. In 2013, she began studying with Katarina Makarova, passing her AmusA for piano two years later. Anna achieved high marks in both her academic studies and her HSC piano performance exams, which received a nomination for the 2017 encore performances.
After moving to Melbourne in 2016, she began studying piano under Glenn Riddle. She was awarded her LmusA diploma in 2018, completing VCE year 12 in the same year. Anna is currently undertaking her first year in a Bachelor of music course at the Melbourne Conservatorium of Music, aspiring to travel abroad and take her music studies overseas to Europe in order to further her skills in piano.
Ji Woo Yoon – Cello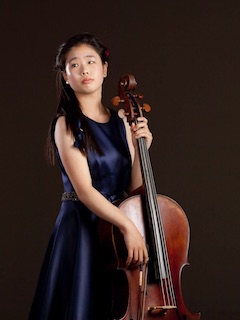 Ji Woo Yoon is a year 10 cellist at the Victorian College of the Arts Secondary School, studying under Josephine Vains. She started playing the cello when she was 8 years old and soon after started to receive numerous awards in competitions both in Sydney and Melbourne. Ji Woo loves chamber music and enjoys works from composers such as Dvorak, Bach and Tchaikovsky. Having obtained her AMEB Licentiate in Music L.Mus.A with Distinction in 2017, she was also invited to play at the AMEB Centenary Book Launch. Ji Woo was also awarded the Junior Music Award from the Victorian College of the Arts Secondary School.
Ji Woo is also the recipient of other awards including 1st prize in the Musical Society of Victoria 15 years and under String competition and 2nd prize in the Hephzibah Menuhin Competition in 2017. As a finalist in the Melbourne Recital Centre Bach competition, Ji Woo relished the chance to play solo on a big stage. She was picked as one of the finalists for the Vera Bradford Concerto Competition and a semi-finalist for the MYO Virtuosity. Masterclasses with Professor Tilmann Wick (Germany) in Seoul, Korea were a highlight.
Dandan Wang – Violin

Dandan (Jingfei) Wang, now 12 years old, commenced her violin study at the age of 3 and since 2014 has learned from Fintan Murphy. Dandan was a finalist in the 2016 Melbourne Recital Center Bach Competition, the winner of 2017 Melbourne Recital Center Bach Competition Australia Bach Society award and the winner of 2018 Melbourne Recital Center Bach Competition Richard Mills first prize. Dandan was a finalist in the 2018 Kendall National Violin competition which took place on 5th August, in Sydney.
Dandan has been a member of the Melbourne String Ensemble since 2015 where she played a broad range of chamber music with other members. She has played as a soloist the Mozart Concerto with the Melbourne String Ensemble at its annual Concerto Concert in 2016.
---
The Wilkie Prize
Preston Symphony Orchestra is delighted that the first prize for the 2018 Youth Concerto Competition has been donated by the Wilkie family, in memory of conductor Stuart Wilkie and cellist Neville Wilkie. This remarkable father and son duo were part of the orchestra from 1953 to 2015, and it is an honour to remember them.
Stuart Wilkie was invited to conduct a concert for the Preston Symphony Orchestra in 1953 when the orchestra's conductor, Billy May, died just before a concert. Billy had been conducting the orchestra since its formation in 1950, and Stuart was well known in music circles locally as head of music at Northcote High School. Stuart was a violinist, though he had taken up brass during the Second World War and played in military bands. After conducting one concert with the Preston Symphony in 1953, he was invited to conduct the next concert, then another, then one more – and in 1954 Stuart Wilkie became the orchestra's permanent conductor, a position he retained for 30 years.
In 1965, he organised a 'schools' music festival' inviting all the schools in the Preston area to participate in a joint concert performed over 3 nights at Preston Town Hall. The festival was a great success and continued annually until 1983 when Stuart retired as conductor of the orchestra. The festival was the precursor to the Youth Concert Competition which started in 1988.
Stuart was awarded an MBE for 'services to music' in June 1974.
Neville Wilkie would tell new members of the orchestra that his father asked him to 'help out' as a cellist in 1953 when he was only 17 years old; he was still playing with the Preston Symphony Orchestra over sixty years later.
Neville was leader of the cello section for many years as well as a member of the orchestra's organising committee. He also ran the Youth Concerto Competition for many years and received an Australian Day Award from Darebin council in 2013. Neville was much loved by members of the orchestra for the encouragement he gave to other players and the pleasure he found in playing.
---
Loretto Perkins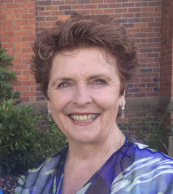 Loretto Perkins is a passionate music lover. She learnt piano and pipe organ and has spent a lifetime attending and enjoying orchestral concerts, recitals, music theatre, operas and so much more. Her particular love is as an accompanist rather than solo performer, having played for singers, instrumentalists, choirs and many amateur theatrical companies.
For the past ten years, she has been a radio presenter and interviewer with 3mbs Fine Music Melbourne and in that time has been called upon to compere concerts, competitions and conferences. Currently, she is the pianist for the U3A Choir at Nunawading. She is also an Audio describer with Vision Australia, one of a small team who describe live theatre for people who are vision impaired. Loretto is very much looking forward to being part of this year's Preston Symphony Orchestra's annual Youth Concerto Competition.
---
Zoe Knighton
Zoe is a founding member of Flinders Quartet, one of Australia's finest chamber ensembles. Flinders Quartet has toured internationally, nationally and appears regularly at Australian festivals as well as their own celebrated subscription series. The group has commissioned many works, been nominated for an ARIA for best classical album and continues to be a champion of Australian Chamber music. "Flinders Quartet…whose players give such care and unanimity of musical thought to Australian Chamber Music" Peter McCallum, Sydney Morning Herald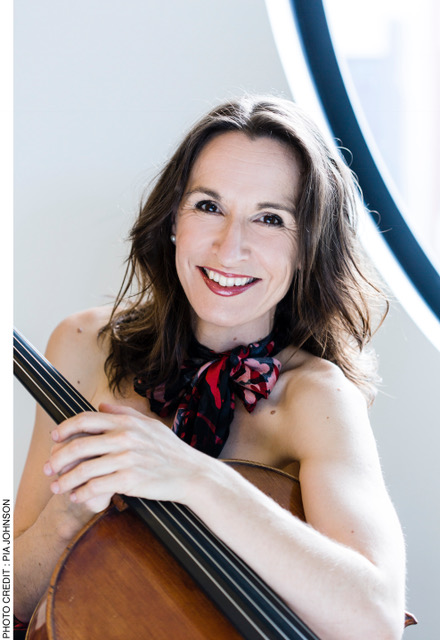 After starting cello at the age of 9 with Jill Kahans, and graduating from the University of Melbourne with the highest mark of her year, Zoe went on to establish herself as one of the country's most sought after cellists. Having studied with Christian Wojtowicz, Michel Strauss (Paris) Nelson Cooke, and Angela Seargeant, she is now in demand as chamber coach and teacher at various institutions. A regular panelist for major competitions, Zoe combines many facets of her career with performing.
Zoe has played numerous concertos with Melbourne Orchestras and with pianist Amir Farid, made an impressive debut at the Melbourne Recital Centre to great critical acclaim in 2009. Their partnership continues with recordings for ABC, concerts throughout Australia and the release of five CDs on the MOVE label. She has been praised for her "thrilling tenor sound" (Limelight magazine) "sublime phrasing" and "many great technical demands carried off with ease."
Her three other titles on the MOVE label include the complete suites for solo cello by J.S Bach Her solo work has resulted in eight releases on the MOVE label.
"Knighton has produced a reading of great artistic integrity. " Gordon Kerry
"She radiates confidence in her work and participates with personality and no little finesse. "Well worth hearing for the pleasure given through this player's familiar warmth and honesty of musical character." Clive O'Connell
Recent projects have included expanding Flinders Quartet's regional engagement by becoming Artistic Patrons of the John Noble Quartet Program and initiating a secondary school residency program that incorporates the study of Shostakovich quartets with other areas of curriculum.