Youth Concerto Competition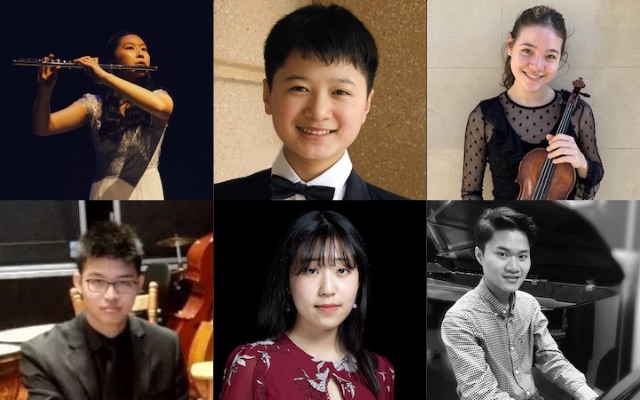 Conductor: Robert Dora
Compère: Loretto Perkins
Adjudicator: Kristian Chong
The 32nd annual Preston Symphony Orchestra Youth Concerto Competition, where six amazing young musicians each played a movement from a concerto, took place on 8th September at Northcote Town Hall.
Date: Sunday 8th September 2019
Time: 2.30pm
Venue: Northcote Town Hall Arts Centre
---
This year we were delighted to have Loretto Perkins as compère and Kristian Chong as the competition adjudicator.
The overall winner received the Wilkie Prize of $500, awarded by the Mayor of Darebin, Susan Rennie.
As well as the overall winner's prize, there was an Audience Prize, chosen by ballot at the end of the concert.
The overall winner was Leon Fei, who played the 2nd & 3rd movements of the Tchaikovsky violin concerto in D. Leon also won the audience prize.
---
The Finalists for the 2019 Youth Concerto Competition
Leon Fei
Violin
Tchaikovsky violin concerto in D, 2nd & 3rd movements
Minwu Hu
Flute
Mozart concerto for flute in D major, 1st & 3rd movements
Zhihan Jiang
Piano
Rachmaninov piano concerto No.2, 1st movement
Leanne McGowan
Violin
Tchaikovsky violin concerto in D, 1st movement
Rachel Shindang
Piano
Beethoven Piano Concerto no.3 in C minor, 1st movement
Thong Truong
Piano
Ravel Piano Concerto in G major, 1st & 2nd movements
---
Leon Fei – Violin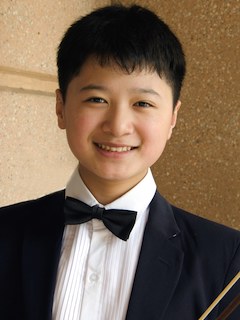 Leon Fei, 14 years old, was the winner of the Australian National Young Virtuoso of the Year and the 3MBS Fine Music Young Performer Award of the year in 2017, as well as Audience Choice Award. In 2019 as a soloist Leon performed the violin concerto 'Butterfly Lovers' with the Melbourne Symphony Orchestra in the Sidney Myer Music Bowl to an audience of 13,600. At the age of 10, Leon was invited to perform as a soloist in Carnegie Hall in New York after winning the 1st prize and special Judges' Favourite Award in the American International Music Competition in 2015. Over the past years he has also won numerous 1st prizes in local and international string competitions including 2016 Brisbane International Youth Music Competition and 2017 Hephzibah Menuhin Memorial Award, as well as a prize in the 2018 3MBS 'The Talent' series. Leon has appeared as a soloist in the Hamer Hall in Melbourne, Queensland Performing Arts Centre, Melbourne Recital Centre, and performed on air on 3MBS Radiothon Program and on ABC TV program between 2016 and 2019. He currently studies violin from Mark Mogilevski and has been awarded A.Mus.A Distinction (2015) and L.Mus.A Distinction (2018).
Apart from music, Leon is an active member of Scotch College's Swimming Squad and Fencing Squad in which he was awarded the Best Performing Fencer of Year 7 and won gold and silver medals with the school team in Victoria in 2017 and 2018. He is also a member of Scotch College Academic Challenge Program and Challenge Debating Team. He received the Principal's Academic Excellence Award in 2017 and 2018.
---
Minwu Hu – Flute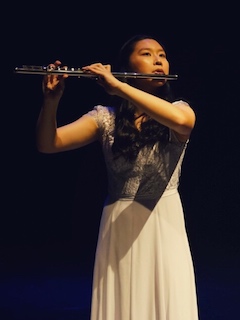 Minwu Hu was born in 2005 into a musical family. At the age of seven, Minwu started to learn the flute with her father, Mr Qing Hu. Two years later, she participated in the music competition for woodwind and was awarded first prize in the fourteen years and under group. In 2015, after winning 1st prize and the Judges' Favourite Award in the American International Music Competition, she was invited to perform as a soloist in Carnegie Hall, New York in 2016.
She has been invited to attend several prestigious master classes and summer schools, including Robert Langiven's master class at the Juilliard School and the middle school program at the Curtis Institute of Music by Prof. Jeffrey Khaner. In 2016 and 2018, Minwu was awarded a privileged full scholarship to attend the international summer school in London of the renowned flautist, Prof. William Bennett's (OBE, Hon RAM). Later Prof. Bennett introduced Minwu in his facebook as a " brilliant 13 year old star". In August 2018, she won first prize for both the 13 years and 18-years-and-under (intermediate) Section competitions in The Victorian Flute Guild who wrote: 'This possibly makes her the youngest person to win the Intermediate Section…… The future clearly holds great promise for this rising star of the flute.'
'Mozart is one of my favourite composers, because his music is always like a clear spring flowing through my heart. The warmness spreads through me!' Minwu says. Minwu currently studies at Presbyterian Ladies' College and participates in the school orchestra and ensembles; she is also a member of the Melbourne Youth Orchestra.
---
Zhihan Jiang – Piano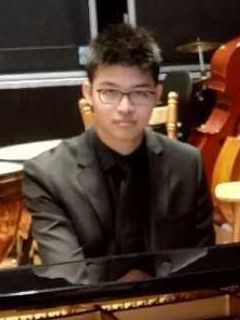 Zhihan Jiang is a Year 12 student at St Kevin's College Toorak. Zhihan started playing piano at the age of three and half; he has been studying piano with Dr. Mark McGee since 2014, previously he was a student of Mrs Enpei Lin.
Zhihan has completed VCE Music Investigation and VCE Music Performance. In 2016 Zhihan attained a prestigious Fellowship to Trinity College London (piano performance ) after completing his L.Mus.A in piano.
Zhihan is a recipient of the Hephzibah Menuhin Memorial Award; he has won first prize in the Scotch College Piano Competition and was a prize-winner in the Melbourne Recital Centre's 2018 Bach Competition. As a soloist, Zhihan was honoured to played Rachmaninoff Piano Concerto No. 2, 1st movement, with St Kevin's College Symphony Orchestra at St Kevin's College Centenary Concert in Hamer Hall, Arts Centre Melbourne in 2018.  Zhihan also performed piano solo in the 2019 VCAA Top Class Music at Melbourne Recital Centre.
Zhihan started learning violin with Mr. Marcel Trussell-Cullen at Year 7 and was awarded A.Mus.A in violin three years later. Zhihan is the current concertmaster of St Kevin's College Symphony Orchestra and Chamber Strings. He is also a keen chamber musician.
---
Leanne McGowan – Violin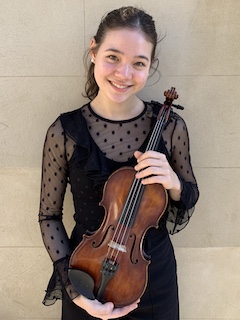 Leanne McGowan studies violin with Dr Robin Wilson at the Australian National Academy of Music (ANAM). She has performed as a soloist with the Queensland Symphony Orchestra (QSO), Queensland Youth Symphony (QYS), the Northern Rivers Symphony Orchestra, and is looking forward to collaborating with the South Melbourne Symphony Orchestra in mid-September.
Leanne was the winner of the 2017 QSO Young Instrumentalists Prize and a prize winner in the 2019 Melbourne Recital Centre Bach Competition. She performed last year in the semi-finals of the Ilona Feher International Violin Competition in Budapest. Leanne will soon participate in the second round of 3MBS "The Talent." Leanne was Concertmaster of QYS in 2018 and was the concertmaster of the Bishop Orchestra in 2019 at the Australian Youth Orchestra (AYO) National Music Camp. Leanne has just returned from the AYO international tour to Europe and China. Earlier this year Leanne had a masterclass with Vadim Gluzman.
Leanne is a big fan of composers such as Debussy and Rachmaninoff. In addition to violin, she loves to sing, dance and exercise.
---
Rachel Shindang – Piano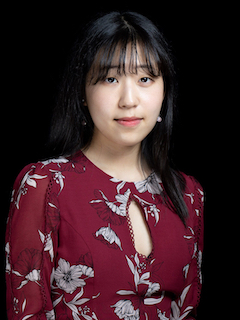 South-Korean born, Melbourne-based pianist Rachel Shindang is a year 11 student, studying at the Victorian College of the Arts Secondary School. She has been a student under Maestro Glenn Riddle since year 7. In 2017, Rachel successfully passed her A.Mus.A exam; she also made her first concerto debut with the Preston Symphony Orchestra, playing Mendelssohn's 1st piano concerto in G minor. She has also received awards at many other Eisteddfods and local competitions, including multiple prizes from the Geelong Eisteddfod and South Eastern Arts Festival.
She enjoys singing in her spare time, taking vocal lessons as her second study at school. She has also achieved a lot in her vocalist career, featuring in public concerts and competitions. She was also the winner of Outstanding Soloists' competition, held at VCASS, and the winner of Scotch College piano competition. Other scholarships include the VCASS Phyllis McDonald piano scholarship and Western Chances Scholarship. In 2018, Rachel was selected as a semi-finalist for her first international competition – the 2018 Hanoi International competition. She recently participated in The Talent program held by 3MBS Fine Music Melbourne, and was selected as a contestant in the Brisbane-based Lev Vlassenko piano competition.
---
Thong Truong – Piano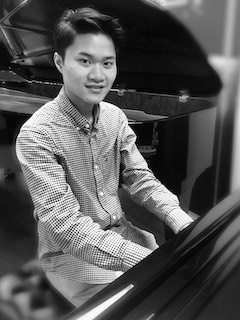 Thong is 18 years old and is studying his first year Bachelors of Commerce and Bachelors of Music, majoring in Classical Piano performance at Monash University. Prior to entering Monash, Thong studied with Wendy McLean on piano and with Jennifer Chou on pipe organ. Currently he studies under the tutelage of Anthony Halliday at Monash.
Thong has been awarded his A.MUS.A in piano and was the winner of both the Ringwood Eisteddfod Organ Open section and Instrumental Grand Final in 2018. Thong completed both VCE Music Performance and Music investigation with study scores of 40+.
His favourite composers are Chopin, Messiaen and Ravel. Chopin's Nocturne in E flat major Op 9 No.2 is the piece that sparked his interest in the piano and the Nocturnes hold a special place in his heart. Thong's musical highlights include performing on the Melbourne Town Hall pipe organ at the Melbourne High School Choral and Instrumental competition in 2018 and being selected to perform on piano with the world's only touring trautonium player, Peter Pichler, in one of Monash's lunchtime concerts.
---
See the list of previous competition winners
Read about the 2018 Competition
---