Our annual Youth Concerto Competition commenced in 1988. The aim of the competition is to give young musicians the opportunity to play with a symphony orchestra under concert conditions. Previous competition winners.
Thanks to everyone who participated in the auditions on Thursday 8th June for the 2017 competition. There were a larger number of entries than recent years, with a very high standard.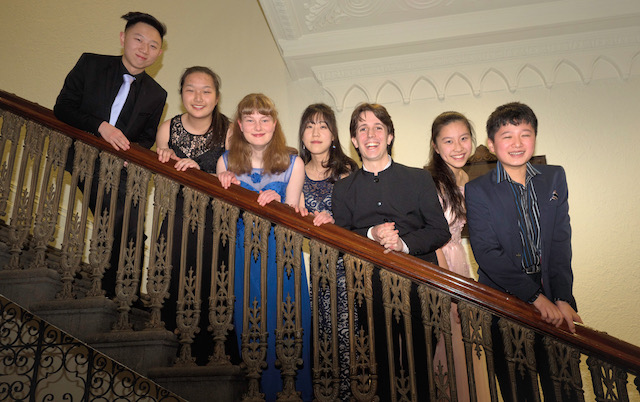 The finalists for 2017:
Phoebe Fan violin
Bruch violin concerto, 1st & 2nd movements 
Leon Fei violin
Tchaikovsky violin concerto, 1st movement
Po Goh piano
Rachmaninoff piano concerto no 2, 1st movement
Minwu Hu flute
Ibert flute concerto, 1st & 2nd movements
Charlotte Miles cello
Tchaikovsky Variations on a Rococo theme
Rachel Shindang piano
Mendelssohn piano concerto no 1, 1st & 2nd movements
They played with the orchestra at the concert on Sunday 17th September at Northcote Town Hall.
The competition will take place again next year; details about applying will be available here in March 2018 and entries will open during April 2018.
Any queries should be directed to info@prestonsymphony.org.au
Competition rules 2017
Age limit
The Competition is open to players of orchestral instruments and piano who are 18 or under on 1 July 2017.
Work
A complete work with orchestral accompaniment or selected movements may be submitted. Maximum duration should be about 15 minutes. For unusual works please check the availability of orchestral parts: if these cannot be obtained the orchestra reserves the right to request a change of work.
Applications
(Applications are now closed).
Applications are made online.
Late entries may be accepted at the discretion of the Secretary.
An audition fee of $10 will be charged on the evening to defray the orchestra's costs.
Auditions
All entrants are required to attend an audition.
Students should provide their own accompanists (assistance with names is available).
The audition time will be about 7 minutes.
Students should prepare one or more sections of their selected work to demonstrate their potential as a performer.
Auditions will take place in early June, details to be announced in late February.
Finalists
At least 5 entrants will be selected to perform with the Preston Symphony Orchestra.
Adjudication
Preston Symphony Orchestra will supply the adjudicator(s) whose decision is final. No correspondence will be entered into.
Prizes
The winner receives $500. Other finalists receive $100.
As well as the overall winner's prize, there is an Audience Prize, chosen by ballot at the end of the concert.